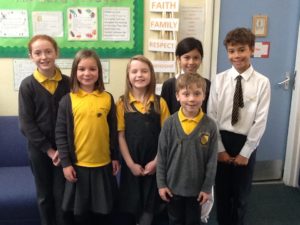 Langley Fitzurse Worship Council
Our Worship Council was set up in November 2013. The members are elected by their classmates and currently are Joel, Lola, Maya, Ellis, Sophia and Martha.
Because we are a Church of England school, our role is to help our school evaluate collective worship, and to explore ways in which we can develop the distinctively Christian character of Langley Fitzurse. We enjoy working together to make a difference; hearing and discussing new ideas, having a say and input into changes to help the whole school community understand and enjoy worshipping God.
Last year the Worship Council took part in the SIAMS inspection which resulted in an outstanding result. They created an advice guide to share with other Worship Councils to help them prepare for their SIAMS inspections. They also helped write a guidance leaflet for visitors who come in to lead our worship.
This year we have started to determine ways in which our parents can be involved in collective worship – watch this space!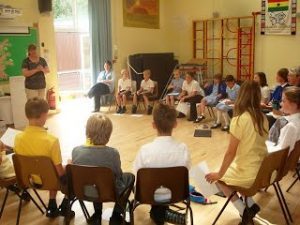 Through working together, and with our classmates, we have helped shape our worship by:
Designing the school mosaic to display our values, having helped to identify our core values
Selecting the values for the year, and finding ways to extend their impact beyond collective worship
Designing this web page
Leading worship and taking part on school services
Helping with Experiences in church
Developing collective worship – highlighting what we find helpful, and ideas for improvement
Developing the worship table in the hall – lighting the candle and using a cloth to reflect the colour of the church season
Developing the prayer book
Experimenting with ways to use the gazebo as a quiet space
Creating a scrapbook, following a learning walk, to show how we are a church school
Our Worship Council meets each year with others from our village cluster schools to share experiences and ideas. This good practice features on the Bristol diocese website.
Please see a copy of our latest minutes below…