"Let us help each other to love others and to do good" Hebrews 10:24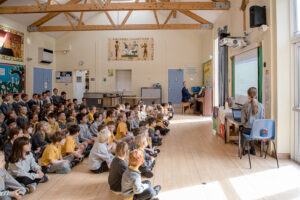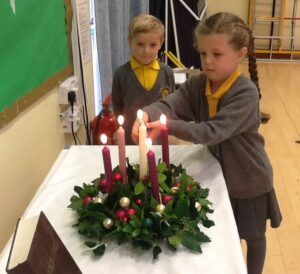 You can read our Collective Worship policy here.
As a Church of England School, we value the place of daily Collective Worship because it is a special time of day when the whole school comes together to strengthen the family feel. Our worship is of a Christian nature in the Anglican (Church of England) tradition, with God and Jesus as the focus. However, we aim to be inclusive, offering opportunities for children of both a Christian and non-Christian background to take part in ways that are appropriate for them.
Collective worship offers pupils and adults opportunities for spiritual development and includes time for silence and reflection. We try to offer variety in our worship, recognising that we are all unique, and make our time together engaging and relevant so we can 'Amaze, Excite and Inspire'. Our Christian values are used as the basis of our termly worship themes. We explore what this value looks like 'in action' and the Bible stories relating to this value.  Our worship time always includes time for prayer and/or reflection, and we enjoy singing hymns and songs. Parents, carers and families are invited to join our Celebration assemblies, as well as festival services throughout the year.
Collective worship is carefully planned, and we follow the cycle of the Christian year marking special days and celebrations. This time is led by different members of staff within the school, as well as visitors from St Peter's Church and the local community. This gives variety to appeal to different interests, ways of communicating, and interpretations of the Christian faith and how it is lived out. We follow a pattern of worship, which is laid out in our Collective Worship policy and the guidance leaflet for visitors.
A group of children from Key Stage 2 form our Worship Council. One of their roles is to help plan, lead and evaluate Collective Worship – this helps us keep improving and grows pupils' confidence. It is also monitored by the head teacher and governors, to help assess the impact of our worship time and to ensure we meet the legal requirements.
What pupils say about Collective Worship:
I like hearing Bible stories and learning about God
It's a space and a rest from work, it's relaxing
I like singing
I like the visitor who uses a board to tell stories
I like listening to and talking about the Bible stories
I like being together, the whole school
Our School Collective Worship Timetable
Worship
Lead
Monday

2.45 pm

Whole School Collective Worship

The theme of the week is introduced

Executive Head / School Head

Twice a term, this is led by members of the Draycot Benefice Ministry Team or other local church leaders

Tuesday

2.45 pm

Song Worship

Songs linked to our value

All staff
Wednesday

2.45 pm

Whole School Collective Worship

In this worship the children look carefully at the termly value and an associated bible story is shared and discussed.

All staff
Thursday

2.45 pm

Whole School Collective Worship

'In the News'
A news article is shared and discussed at an age-appropriate level.

All staff
Friday

10.15 am

Celebration worship

We share and celebrate our achievements across the school. Teachers nominate individuals for recognition. Maths and Reading certificates are shared. This is also an opportunity of any other 'out of school' achievements to be shared.

Executive Head / School Head
All our school newsletters contain a Christian Distinctiveness section for home reflection.  Here is a link to the archive.