Langley Fitzurse Worship Council
Our Worship Council was set up in November 2013. The members are elected each year by their classmates and currently in this school year are Willow, Oliver, Lola,  Robyn, Fraser, Arabella and Nell.
Because we are a Church of England school, our role is to help our school evaluate collective worship, and to explore ways in which we can develop the distinctively Christian character of Langley Fitzurse. We enjoy working together to make a difference; hearing and discussing new ideas, having a say and input into changes to help the whole school community understand and enjoy worshipping God.
Why did you want to be a member of the Worship Council?
I wanted to try something new
I like being involved in worship, and wanted to do more
I want to help create some outdoor worship spaces
It sounded like fun!
I helped design the worship cloth and wanted to do more
Each year we look at how we can improve our collective worship, update this web page, and design our notice board. We have opportunities to plan & lead collective worship, help in school services at church and with Experiences, and are invited to take part in Sunday services in St Peter's Church.
What do you like about Collective Worship?
I like hearing Bible stories
I like being together, the whole school
I like singing
It's a space, a rest from work – it's relaxing
This year we are:
Going to look at the space where we worship and how to improve the hall
Fundraise for Vivian from Ghana, whom we sponsor, and find out more about her life
Explore different ways of communicating our new school values
Find out about outdoor prayer spaces and see what's possible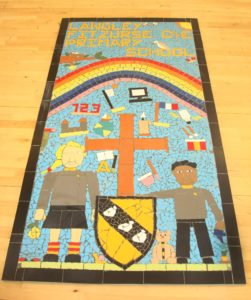 Achievements so far…
Helping to choose the new school values 2018/19: friendship, respect, truthfulness, forgiveness, perseverance and service, underpinned by being part of God's wide family
Choosing a variety of lunch time prayers
Running a competition and fund raising for the new cloth for our worship table
Creating a display about being a church school
Suggested questions for the new head teacher interviews
Wrote prayers about our school values to share with the whole school
Evaluated our class reflection areas and made suggestions for improvements
Planned and led the whole school Christingle service in St Peter's
Looked at ways to involve parents in collective worship
Guidance leaflet for visitors who come to lead worship
Taking part in the SIAMS inspection and creating a guide to help other Worship Councils prepare for their inspection
Designing the school mosaic to display our values, having helped to identify our core values in 2017: faith, family, friendship, respect and reflect
Selecting the values for the year, and finding ways to extend their impact beyond collective worship
Designing this web page
Leading worship and taking part in school services
Helping with Experiences in church
Developing collective worship – highlighting what we find helpful, and ideas for improvement
Developing the worship table in the hall – lighting the candle and using a cloth to reflect the colour of the church season
Developing the prayer book
Experimenting with ways to use the gazebo as a quiet space
Creating a scrapbook, following a learning walk, to show how we are a church school
Our Worship Council meets each year with others from our village cluster schools to share ideas and celebrate our hard work. This good practice features on the Bristol diocese website.
For our latest minutes, please click here
Minutes of Worship Council Meetings in 2022/23
Minutes of Worship Council Meetings in 2021/22
Term 1
Term 2
Term 3
Term 6
Minutes of Worship Council Meetings in 2020/21
Term 1
Term 2
Term 4
Term 5
Minutes of Worship Council Meetings in 2019/20
Term 1
Term 2
Term 3
Term 4
Here is a link to our 'Outstanding' SIAMS Report from 2016
Links to the prayers we created for our school values: